Cloudflare, one of the fastest growing startups in Silicon Valley, has recently unveiled a new Wordpress plug-in that will help the millions of Wordpress bloggers to show video within their blog post.
With our new solution CFPowerTool, which is an extension of the existing Cloudflare stream wordpress plugin, we help bloggers to better protect their videos content (avoiding downloading videos for unauthorized users through signed URLs) and we help them by getting more specific video analytics for understand their users behavior and consequently improve their result.
What makes our CF Power Tools plugin different to Cloudflare stream Wordpress
Cloudflare stream wordpress plugin is an Advance level, reliable and cost-effective, streaming platform. You only pay $1 for 1'000 minutes streamed + $1 for 1'000 minutes stored. It included a professional, modern player and videos are smoothly streamed across 200 cities in more than 100 countries.
The only problems is that Cloudfare stream Wordpress can not do any of the other functions that Cloudflare offers. For this reason we developed our plugin to integrate all that was missing.
CF Power Tools is a Wordpress Plugin with the mission of bringing the power of the Cloudflare Stream service to non-techy people.
Here the 10 main reasons why cfpower tools is the best video plugin in wordpress:
manage your Cloudflare videos directly from within WordPress
allow streaming only from certain domains
prevent streamed videos download
control all pla yer parameters directly from WordPress (loop, autoplay, mute,…)
set time-limited token validity and its duration
protect and unprotect videos in 1-click
assign a single shortcode to each video
make the video ID hidden from public
use it with WordPress Classic Editor, Gutenberg & WPBackery
get all analytics and export in CSV
Get CF Power Tools Wordpress Plugin end exploits alls its potential
Still difficult to understand how its works?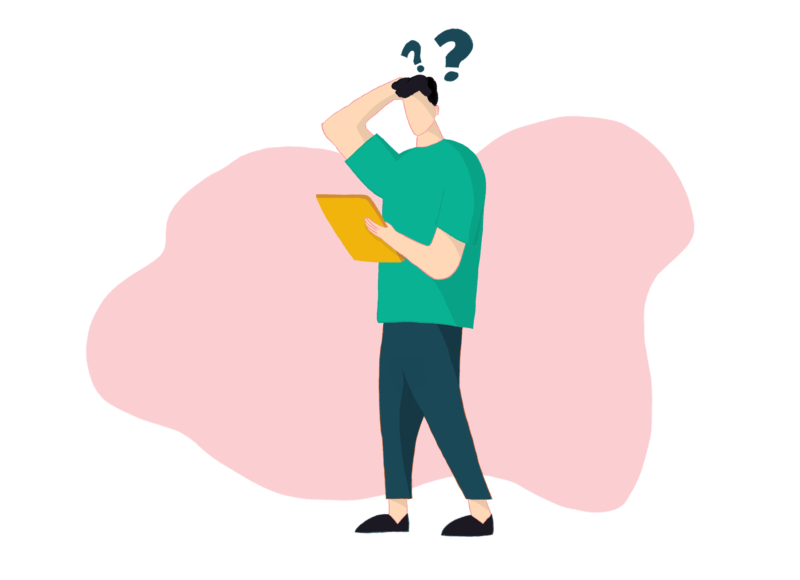 First let's clarify some points and then let's see step by step how to start: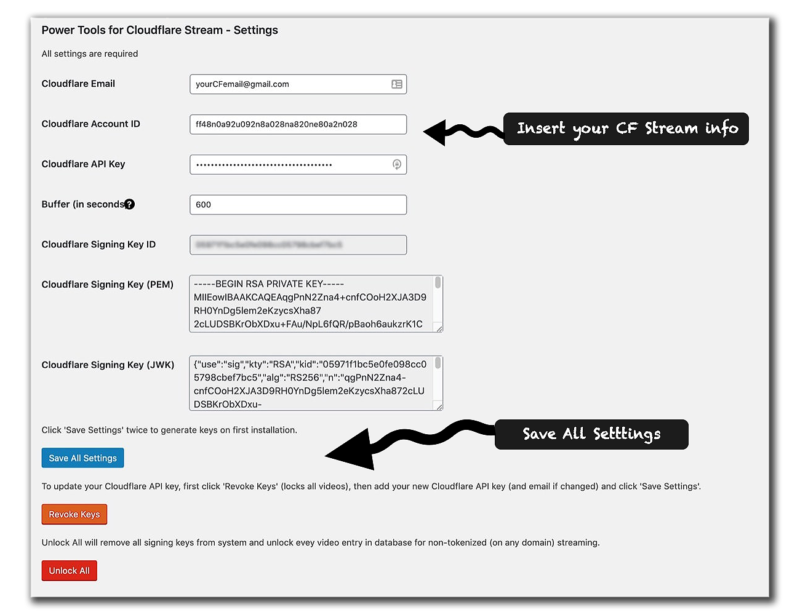 Then you can add your video as you would do with a normal WordPress page, giving it a title and inserting your video ID (provide directly from Cloudflare).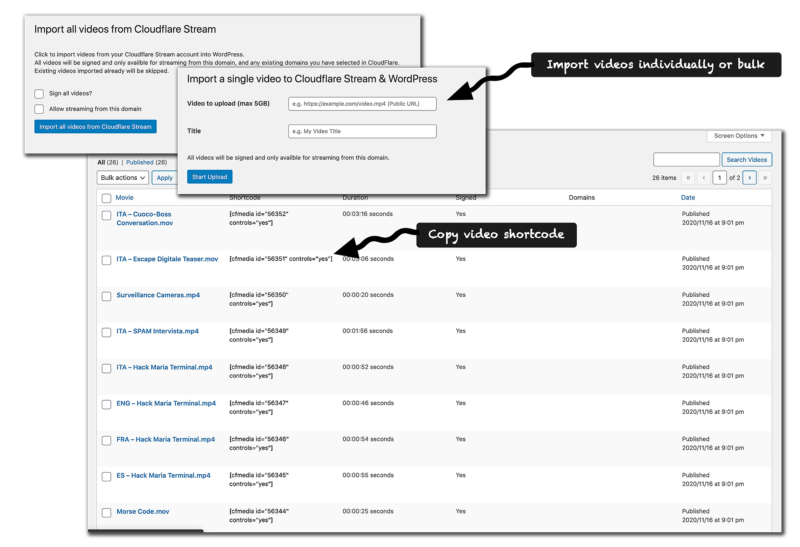 In WordPress you can then integrate the videos with a secret ID that nobody will be able to see. Following the instructions mentioned in the step-by-step guide, provided with the purchase, you will be able to transform that ID into a block of shortcode and embed your protected videos wherever you want into your Wordpress pages. (There are 2 options to integrate your video in your WordPress pages: using the dedicated "CFMedia block" available only if you have WPBackery installed or using the shortode, if you have Classic Editor or Gutenberg)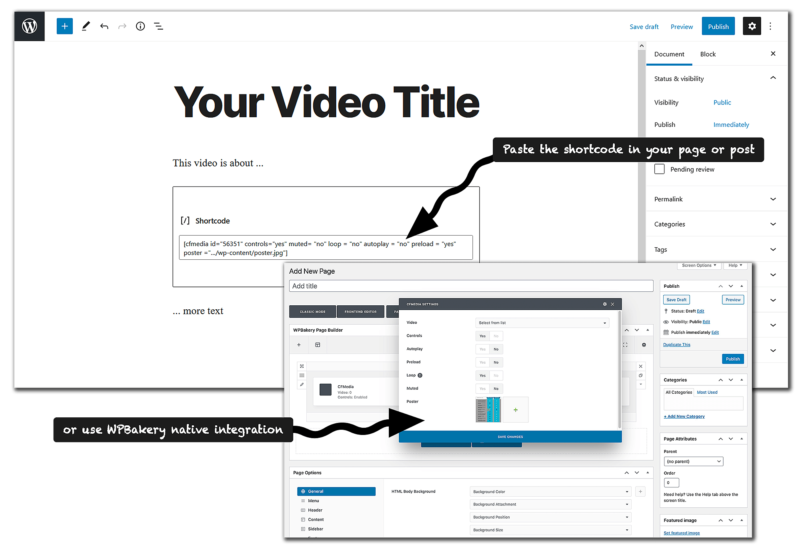 Get videos analytics in WP such as number of views, average view time search videos based on title, export all your data to CSV etc…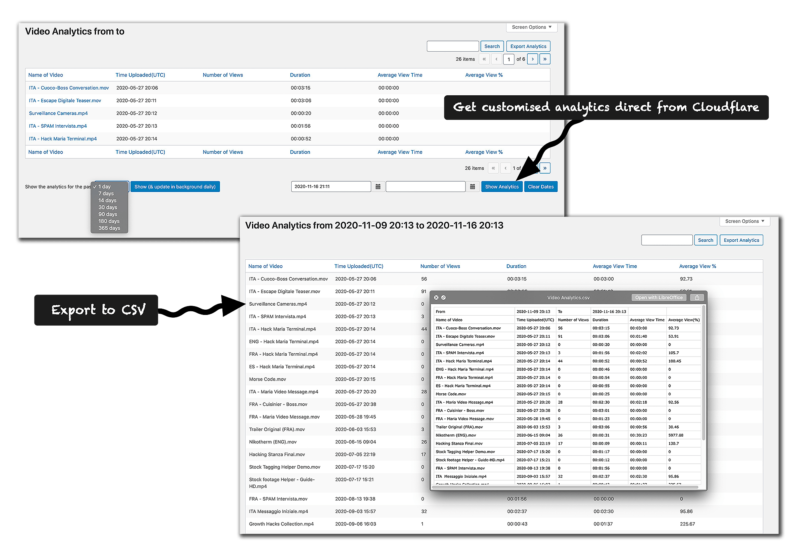 Now that you have all the solutions, you can import and manage videos from our new Wordpress plugin. You can also get great analytics, without any coding required, while protecting your video in few easy steps. The best thing is that you can do all this directly from your Wordpress editor. No backoffice needed or any other complicated process. We did our best to make it simple and easy for you to use it.
For more information, visit our website and discover all the features by clicking here
Please don't hesitate to get in touch with us for any other doubt, question or feedback you may have.
HAVE FUN UPLOADING ALL YOUR VIDEO CONTENTS!!