WordPress is one of the best content management systems out there. Powerful and secure, it's the backbone of many of the Internet's top websites. But sometimes, it needs a little help.
WordPress plugins are an integral part of the WordPress system, adding new features and functions.
Thanks to its huge community of developers who have built a wealth of plugins to help present any content in a creative and engaging way, adding important features and modules to your website has never been easier.
In this article, we'll talk about WordPress video download protection and how to use a plugin to simplify your work.
For those who are programmers, it can be easy to try to encode and create video protection, but for those who are not, it is important to find an efficient shortcut to stay focused only on working and creating the video.
To address these difficulties that can be created between user and program. We decided to create our CF Power Tools Wordpress plugin (an even more productive and simple extension) for Cloudflare Stream.
HOW WORKS CF POWER TOOLS AND WHAT PROBLEM CAN SOLVE
The CF Power Tools WordPress plugin tokenizes the streaming process and generates a shortcode for each video that you can embed wherever you want in WordPress, thus protecting your content from being downloaded by anyone who wants to.
It works seamlessly with any version of WordPress (Classic, Gutenberg, and WPBackery).
Thanks to the signed URLs feature it allows streaming only from domains you add to the permission list (note that you will have full control over your videos and who can or cannot watch them, so if even after blocking some domains you change your mind or decide to unblock them, you can do it with a simple click though an "unlock button").
Make the video ID hidden from the public. which means allowing video streaming in a "protected" way, so instead of showing the video ID, a time token is shown on the DOM and consequently the video ID remains hidden ( Something that usually is not possible with other system)
Management of all streaming parameters (autoplay, posters, image, mute, loops, etc.) To better control the playback of your videos.
See video analytics right from your WordPress to better understand and study the impact of your videos on your audience.
CF Power Tools also allows you to view your important results such as:
The number of views.
The average duration of viewing of your video,
The average % of views, etc.
You can also search and filter your data by date, retrieving statistics from previous days, weeks or months and then export everything to CSV.
WHY TO USE CLOUDFLARE STREAM AND CF POWER TOOLS RATHER THAN OTHER PLATFORM OR OTHER CLOUD PROVIDER?

1. PRICING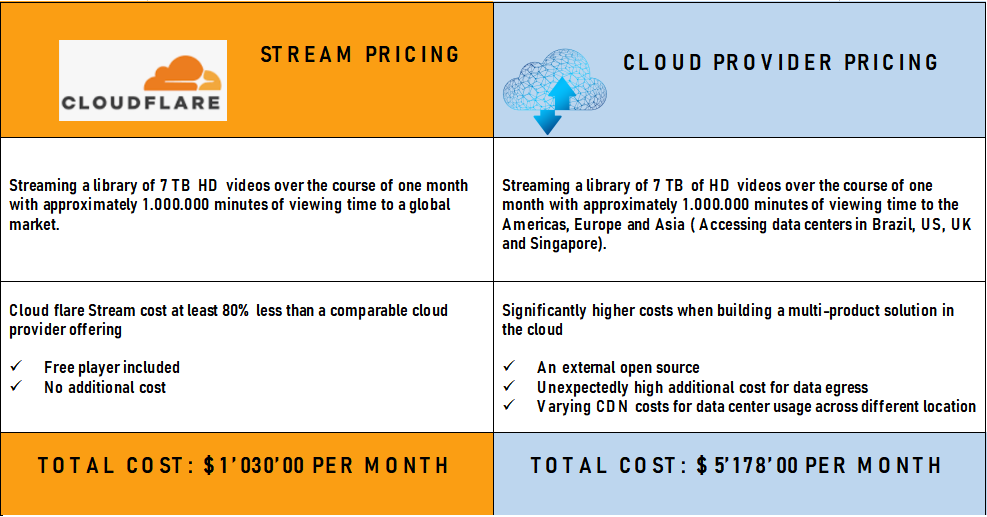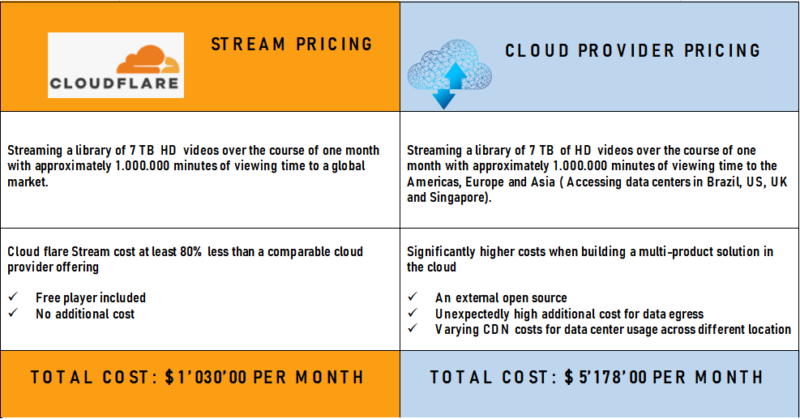 Having clear and predictable pricing is one of the qualities of using Cloudflare Stream instead of other cloud providers.
Affordable, high-performance offerings at a streaming cost of only $1 per 1,000 minutes while storage costs are based on the length of the content at $5 per 1,000 minutes (rather than per GB as they allow 4K video to be uploaded and create dozens of versions for all devices).
2. WORDPRESS VIDEO DOWNLOAD PROTECTION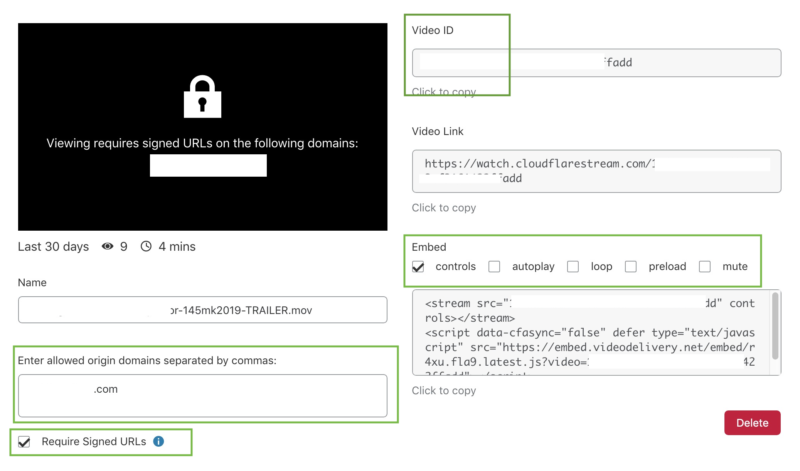 With CF Power Tools you'll benefit of important features to prevent fraudulent attacks and downloads of your video content, such as:
Signed URLs
Whitelist only certain domains
HLS technology
JWT
3. EASY IMPORT

CF Power Tools allows you to easily import all your videos from Cloudflare in bulk or individually. You can also upload a video from a public URL (i.e. Youtube) and in a few clicks you'll have all the videos you want in Cloudflare and within WordPress.
4. CLEAR AND SIMPLE USE


CF Power Tools has a simple and minimalist interface designed just for everybody, programmers or not
If you want to receive more information about the plugin, its use and all its features, click here.
In conclusion, plugins can help you to archive your goal but it is important to focus on the right tool to lighten your work and be focused only on the content you want to create.
In this case, CF Power Tools can help you make sure that all your hard work is not inappropriately downloaded and re-shared without your consent.
Moreover, our team is always open to new proposals and changes to be made to the plugin to make it even more efficient and functional.
So if you have new proposals please do not hesitate to contact us here in our special features request space.
We hope this article has been helpful for you.